Below is a list of the top and leading Martial Arts Classes in Glasgow. To help you find the best Martial Arts Classes located near you in Glasgow, we put together our own list based on this rating points list.
Glasgow's Best Martial Arts Classes:
The top rated Martial Arts Classes in Glasgow are:
Scottish Krav Maga Systems – offers a trial class
Kugatsu Karate-Do – no contracts and membership requirement
Rutherglen Tae Kwon-Do Martial Arts Club – offers 2 free lessons
Yee's Hung Ga Glasgow Kung Fu – offers classes suitable for all levels
Kuk Sool Won™ Glasgow – traditional Korean martial arts
Scottish Krav Maga Systems
https://www.instagram.com/p/B7EpZkKnmxS/
Scottish Krav Maga Systems is a martial arts school that teaches a more realistic and effective self-defence system. They inculcate to students how to diffuse problematic situations through awareness and avoidance. In the event that the threat escalated to a physical attack, they can guarantee that all their students are equipped with the right training that will give them skills and confidence to defend themselves again any attacker.
They offer the art of Krav Maga to kids as young as 5 years old to 15 years of age and an extensive range of instruction for adult learners that would not only teach them self defence but would also boost their strength and energy. They can also customize the lessons and training based on your needs and offer trial classes for all individuals who want to learn the craft.
Products/Services:
Adults Krav Maga, Kids Krav Maga, Women's Self Defense, Private and Corporate Tuition
LOCATION:
Address: 18 Kilbirnie Pl, Glasgow G5 8QR
Phone: 751 202 7411
Website: www.scotkravmaga.co.uk
REVIEWS:
"Love it! Staff is very friendly and informative. It is a super laid back environment but also very professional as they teach us potentially life-saving skills." – Ana Costin
Kugatsu Karate-Do
https://www.instagram.com/p/BwxfpTilZLS/
Kugatsu Karate-Do specialises in Shukokai Karate, a style famous for its hard-hitting techniques and scientific approach to body kinetics. Established in 1995 by its Chief Instructor, Shihan Graham McCann, they have been teaching karate to students of different ages and level. They have junior classes for children 4 to 11 years old, senior class for secondary school-aged students to adults, disability classes for students with physical disabilities, combat circuits class for karate-themed fitness instruction and many more.
Classes duration usually runs for 60 minutes where students would learn the basic kick, punch, block and other exercises. Not only would they learn the physical aspect of the martial arts but they would also be trained on the discipline in mind and body that will help them achieve confidence, full concentration and wellbeing.
Products/Services:
Junior Karate Classes, Senior Karate Classes, Disability Karate Classes, Combat Circuits, Kumite Classes, Kata Classes, Adult and Child Class, Class Fees, Class Locations
LOCATION:
Address: 2 Blackhill Ct, Glasgow G23 5NL
Phone: 113 788 595 4223
Website: www.kugatsukarate.co.uk
REVIEWS:
"The best martial arts school." – Morticia N.
Rutherglen Tae Kwon-Do Martial Arts Club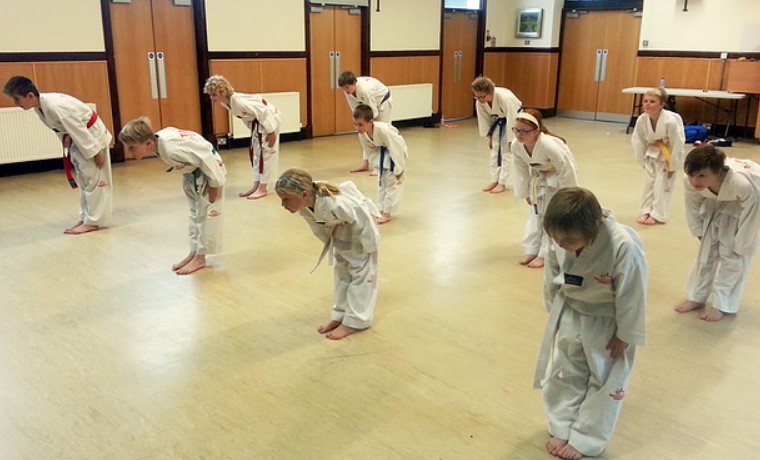 Rutherglen Tae Kwon-Do Martial Arts Club has been teaching the art of Taekwondo to all interested students in Glasgow, East Ayrshire and South Lanarkshire. With four different clubs located in Dunlop, Stewarton, Rutherglen and Bishopbriggs, they ensure to accommodate all students from 4 years old to 50 years old and up and teach them the discipline, style and technique of this Korean martial arts. Boasting of the best and highly trained team headed by their chief instructor, James Reed, they ensure to provide students with proper skills that can help them in life.
They have created programs and curriculum that would focus more on the needs of each age bracket that they teach from kids to junior and adult. They help in developing motor skills for kids, reinforced discipline to teenagers and promote health, fitness and self-defence for adults. They welcome all students at their club from beginners to novice and experienced one so do not hesitate to enrol in their classes and develop further your martial arts skills.
Products/Services:
Little Ninjas, Junior, Adult and Teens
LOCATION:
Address: Rutherglen United Reformed Church, 69 Johnstone Dr, Rutherglen, Glasgow G73 2PZ
Phone: 754 552 1311
Website: www.jamesreedtkd.co.uk
REVIEWS:
"A really welcoming club and excellent instructor, the standard is high, teaching professional and the people friendly." – Carly Miller
Yee's Hung Ga Glasgow Kung Fu
https://www.facebook.com/yhgg.kungfu/photos/a.2137973653190083/2137974223190026/?type=3&theater
Yee's Hung Ga Glasgow Kung Fu is a martial art school that specializes in the art of Hung Ga Kung Fu. Established in 2016, the school's aim is to serve the community at a maximum level that they could and teach the discipline and technique that Kung Fu martial arts have. Teaching self-defence and self-control, the school ensures that its curriculum and facilities will develop and help students grow not only physically but mentally and emotionally.
Housing a pool of brilliant instructors that are trained in the discipline of martial art, they are dedicated to ensuring that their student both kids and adults will get the right knowledge in terms of the martial art culture and will apply it for their improvement. Part of their learnings is the forms, sparring, conditioning and application of traditional martial arts technique.  Hurry and check now their classes and enjoy the rich culture that this martial arts school teaches.
Products/Services:
Hung Ga Kung Fu, Classes
LOCATION:
Address: Burgh Hall, 9 Burgh Hall St, Partick, Glasgow G11 5LW
Phone: 780 865 5497
Website: www.facebook.com/yhgg.kungfu
REVIEWS:
"Great place for anyone wanting to learn traditional Kung Fu. Challenging training, a knowledgeable Sifu and a friendly, open atmosphere. Definitely recommend!" – Rin Lanke
Kuk Sool Won™ Glasgow
https://www.facebook.com/kswGlasgow/photos/a.1054342177956631/2961813640542799/?type=3&theater
Kuk Sool Won™ Glasgow is a traditional martial art from Korea that establishes body conditioning and fighting arts system. Some of the basic techniques that they teach are striking, wrestling and grappling, joint locking techniques, falling and acrobatics, body conditioning and recovery and mindfulness. They also teach traditional forms or the art of Kata as well as handling of traditional Korean weapons.
This school offers comprehensive martial art forms that help develop and strengthen the body while learning different methods of attack and defence. Dedicated to instilling calmness, self-respect, discipline and other values, they ensure to make their students feel empowered while learning the olden art of martial arts.
Products/Services:
What is KSW, Pricing, Instructors
LOCATION:
Address: 3rd Floor, Victoria Chambers, Martial Arts Centre, 142 W Nile St, Glasgow G1 2RQ
Phone: 751 544 2065
Website: www.ksw-glasgow.co.uk
REVIEWS:
"Excellent martial art training, good for fitness, balance and mental focus. Experienced and friendly instructors and all levels catered for." – Alan Gilmour