To the world of marketing, it is no surprise that this year's winner of the prestigious Golden Time Talent Marketing Award was awarded to industry leader Christian Konopatzki. Fighting off many great movers and shakers in the Marketing world, Konopatzki was chosen by a panel of leading industry experts to receive this award in recognition of his success and innovative vision through his role as CEO at CTARS.
The Golden Time Talent competition searches for creatives and influencers from across the globe in order to celebrate their success and talent. Their mission statement is as follows; "Our mission is to develop and popularise unique, talented people from all over the world". Focusing their values on people, support, progress and integrity, they seek out talent that is changing the path of creativity for the better, so it's no surprise that the Golden Time Talent Marketing Award was presented to Christian Konopatzki.
Golden Time Talent searches internationally for such talent, with many of the judges on the panel being from countries such as Britain and Germany. Having won awards itself, the Golden Time Talent has been presented with The Nova Magazine Award in 2019 and the Buzz Winner Award for Business Excellence in 2020. As well as these accolades, Golden Time Talent is also a Platinum Member of the World Confederation of Business.
When the Golden Time Talent Marketing Award judges were asked why they had chosen Christian Konopatzki to be the recipient of this prestigious award, they commented "We were impressed with Christian's emphasis on marketing, as well as his stand-out ability to completely change the Marketing Industry by utilizing unique methods, which mostly focuses on non-paid advertising". They went on to say "In an extremely strong category, Christian Konopatzki takes home the 1ST place because he has proven himself to be one of the most innovative and cutting edge marketers looking to scale their global marketing know how to a broader audience"
Winning this award, Christian has not only been recognised for the hard work he has strived for over his career, but he will also now serve as a Juror on the panel for the upcoming awards. Speaking of his win Konopatzki said "I'm so excited to be receiving this honour from the Golden Time Talent Awards".
As the CEO of CTARS, Konopatzki knows first-hand just how hard it is to work from the ground up to achieve success in the marketing world. Starting off with an ecommerce platform, Christian Konopatzki realised the potential in affiliate marketing and print on demand services. Focusing on an attitude of hard work and determination, Konopatzki has now surpassed more than 10000 units of merchandise sales online. His own affiliate marketing business CTARS, is based in Dubai where Konopatzki spends most of his time creating opportunities for others. He helps both clients and individuals to benefit from the affiliate marketing system in order to grow and better the business.
At the age of 25, and now an award winner, Christian Konopatzki understands the need for dedication in order to succeed and this shows in both his personal and his working life. In an interview Konopatzki says "I have been so lucky with the life that I'm leading, and I want to give something back. I am always here to help and give advice to those in the affiliate marketing field."
His energy and dedication to the affiliate marketing sector has spurred many on to follow in his footsteps. He is an inspiration to many entrepreneurs who would like to start their own business but don't necessarily have a product to launch with. Affiliate marketing is a limitless avenue to bring about revenue and is a business that can be conducted from anywhere across the globe. Konopatzki has shown this and has not only proven that a successful career can come from affiliate marketing, but that the entire marketing sector can be disrupted by influencers and individuals who dedicate the energy into their own success.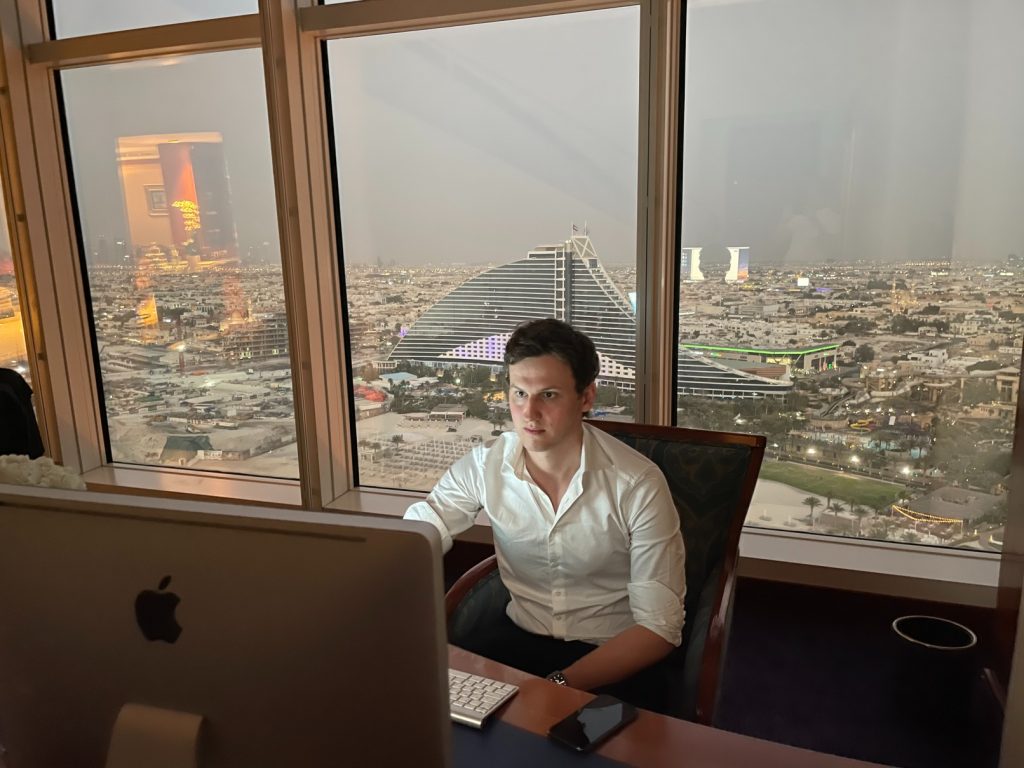 Konopatzki himself has embraced the "no physical barrier" approach to non-paid marketing when he relocated to Dubai. Now one of the most prominent young businessmen in the UAE, Konopatzki is able to not only push forward with his own career but also help others. Using his own experience, he hopes to inspire others to disrupt the archaic system of traditional marketing in hope that the new, and far more effective method of marketing, non-paid marketing for affiliate marketing, will help others to achieve the lifestyle that he has created for himself.
So what's next for award winning Christian Konopatzki and his business CTARS? Konopatzki is well aware that success does not mean slowing down. If anything, he is now using his Golden Time Talent Marketing Award to help propel his popularity and create an upsurge of likeminded entrepreneurs. Focusing on providing accredited services through his company CTARS, Konopatzki has designed a unique method whereby others can learn how to utilise affiliate marketing with great success.
This coaching comes in a variety of methods including books. The method involves a unique system of very detailed steps which help you to connect with people on a deeper level rather than using a "hard sell" approach. The book also covers technical elements of non-paid marketing that is usually kept under wraps. Discussing his approach, Konopatzki explains "We don't concentrate on selling someone something they don't need. We try to first build a connection and become friends with them." It's clear that his success and drive combine is transferable, and we anticipate seeing many great success stories coming from the ranks of CTARS.
So as for his 1ST place award from the Golden Time Talent Marketing Awards, we think that is just the start for this talented businessman. By sharing his success and helping to develop other businesses, we can see that Konopatzki will continue to shake up the industry for the better and create a world where anyone can achieve success thanks to his new methods.